VISUAL AND AUDIBLE SIGNALS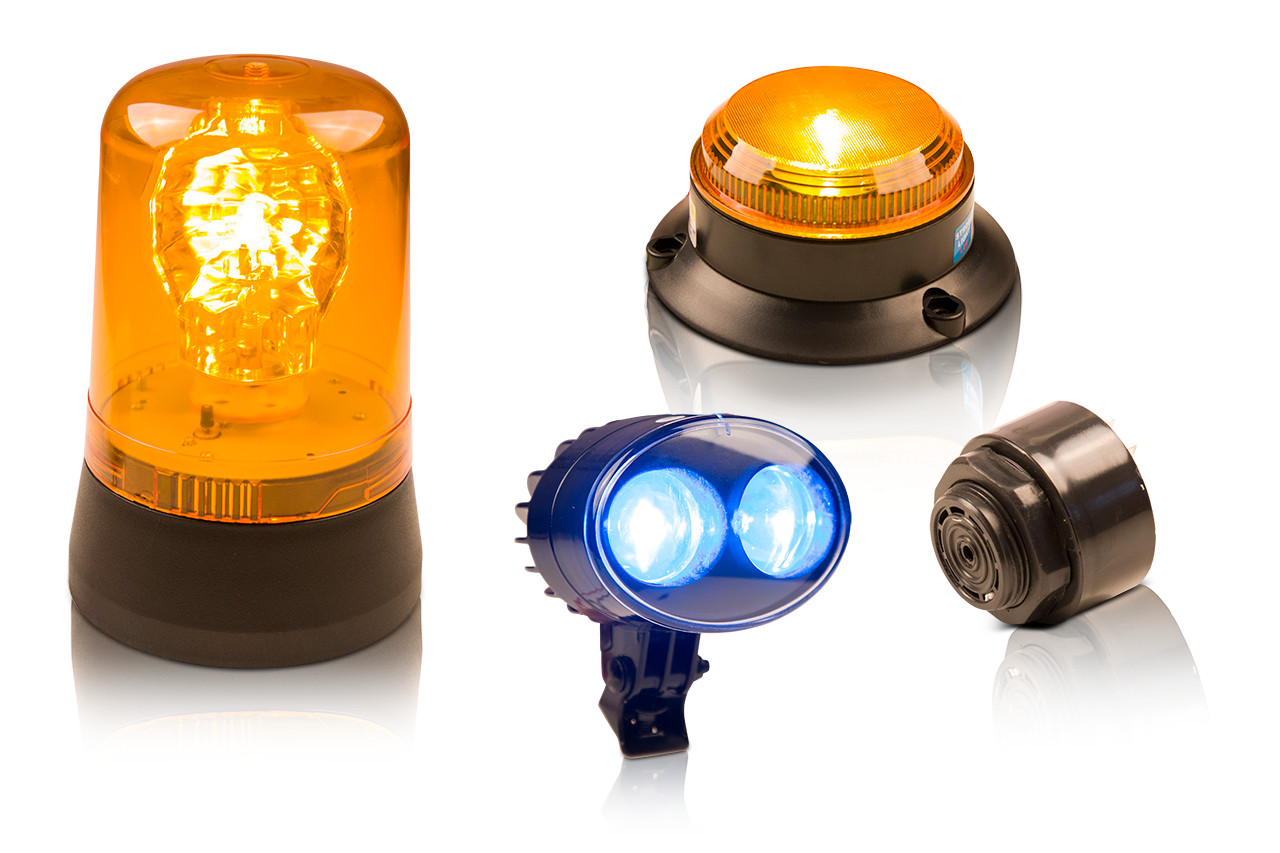 Material handling has developed to become an increasingly important and sophisticated aspect in the industrial field. We have a wide range of visual and audible signalling devices. In accordance with the most recent regulations it reports that: "forklifts and lifting equipment, in particularly dangerous conditions, must be equipped with appropriate audible and visual signalling devices, as well as lighting systems in the manoeuvring area ".
Visual warning devices
The FA10300, mounted on the side of the forklift, is able to produce a perfectly visible red light beam. Moreover, thanks to the articulated flange, it is easily adjustable. The light of our headlights allows excellent visibility even in very bright environments. The LED headlights, moreover, guarantee a 30% longer duration than traditional lamps.
– High efficiency front and rear lights
– Quick and easy installation thanks to the included mounting accessories
– Wear resistant
– High performance under any lighting conditions
The range and models of strobe lights is becoming much wider and it is not often easy to orientate between the different models. Thanks to our experience we can give you the best advice on which flashing lights to choose based on the specific needs and the environment in which it will operate. All our lights are tested and tested to guarantee the end user reliability and robustness. Designed with the most durable materials to last over time, they are able to operate without problems both indoors and outdoors.
The wide range of lights includes:
– Rotating lights
– Intermittent lights
– Fixed lights
We can also supply useful accessories such as, for example, the LS351 protective grille, which protects the lights from impacts. We supply the best products among strobe lights and electromechanical horns. We can offer several multi-voltage lights, with the most innovative LED light source, as well as audible reversing alarms.
Audio warning devices
One of the most important aspects of safety in the handling of materials, industry and logistics, is certainly that related to audible signals. It is very important that in noisy areas, where the layout of the environment makes it difficult to identify the vehicles in motion, the presence of these vehicles is manifested with clear and recognizable audible signals in an unmistakable way.
We are driven by passion and a sense of responsibility, so all our audible warnings are certified and subjected to the most stringent quality controls. The SS800 horn, which can be combined with the strobe light, provides the ideal solution for integrating light and sound alarms into a single object. Easy to install, the SS800 alarm disappears inside the lamp making the coupling discrete and effective.